Kyle Malcolm Coalter
Rank
Date Enlisted
From City
State
Date Boarded
Date Detached
Status



SoM3c
4/16/43
Huntington
WV
2/4/44
3/7/45
d. 6/14/91
Dates: mm/dd/yy


2/4/44 - SoM3c
6/1/44 - SoM2c
3/7/45 - to LEXINGTON (CV-16), FFT to West Coast Sound School, San Diego
---
Following is Mac Coalter's story in his own hand that he wrote me after some prodding on my part, to indulge me, his young nephew in late 70's early 80's. I am eternally grateful to Mac, he is missed. --- Bob Coalter
"I was assigned to crew of two different ships during my "tour" of the Pacific. First was the USS Hilbert (DE742)(Destroyer Escort), and just after the atom bomb was dropped to the USS Mullany (DD528) a destroyer, or "tin can" as they are so fondly called for the remainder of my sea duty. Both the men for whom the ships were named had performed some heroic act but for the life of me I can't remember what."
"As stories go, ours was a very dull one, compared to many others. All of my decorations were accrued whil on the DE742. They are as follows: North American Ribbon - Asiatic Pacific Area Ribbon - Phillipine Liberation Ribbon and Victory Ribbon."
"Quote, 'The subject man is entitled to wear one (1) bronze star on the Asiatic Pacific Area Ribbon for each of the following operations: One (1) star - Marianas Operation. Auth: Com inch Ltr. Ff1/P15, Serial 13, Dated 2 January, 1945. One (1) star - Palau Operation, Auth: CincPac Secret Ltr. P15, Serial 003133 of 7 July 1945. One (1) star - Leyte Operation. Auth: Cominch Ltr. FF1/P15, Serial 5305, dated 30 June 1945. One(1) star - Luzon Operation. Auth Com inch Ltr, FF1/P15, Serial 5305, dated 30 June 1945. One (1) star - Iwo Jima Operation. Auth: Com Fifth Fleet dispatch 300800 of April 1945."
"Pursuant to Alnar 64-65, this man is entitled to wear the Phillipine Liberation Ribbon with one (1) bronze star."
"If I remember correctly, All off us were entitled to wear the North American Ribbon and Victory Ribbon."
The Hilbert was commissioned in San Pedro, Calif. in the Western Pipe and Steel Shipyards, Feb. 4, 1944. Our Captain was Commander Golinkin. He was an artist - in water colors. He and another man had published a book called The American Sporting Scene in which the pictures were painted by our Captain."
His friend, the movie actress, Rosalind Russell was aboard for the commissioning. She and her friends gave us our ships' mascot. It was a little female puppy. Since many of theNavy women were called "Waves", we called our mascot "Ripples". Of course she was given to the Captain....
Now to see how much I can remember about where I went and when.
After the commissioning we left for San Diego on what is called a "shakedown cruise". That is where we trainied for and in, all the possible siturations we might find ourselves during the war. After that was over we went to San Francisco for refitting. Arrived 3/27/44 and to await assignment. Departed 5/13/44 for Pearl Harbor. As the DE was designed for and performed escort duty, screening other ships from submarines, we were escorting a ship loade with servicemens families bound for Honolulu. Four or Five days out we picked up a submarine contact. When it was determined it was not ours we made a "run" on it dropping (depth charges) everything we had on it.. When we could no longer pick up a contact, we waited, and picked up an "oil slick" and pieces of debris. We were in deep water and could not regain contact. Other than the stuff we picked up we could not tell for sure if we had sunk it or not. It could have been that they sent up the stuff from the torpedo tube to trick us and escaped our search. The Navy gave us a "possible" kill. Arrived Pearl Harbor 5/20/44.
After a stay for supplies and "liberty" or shore leave in Honolulu we departed 5/27/44. Pass Johnston Is. shortly. Crossed the International Date Line 5/31/44. After a brief pause at Tarawa in the Gilbert Is. proceeded Nw betwee Jaluit and Jajuro to Kwajalein in the Marshall Islands, Arr. 6/3/44. We had just retaken Tarawa and Kwajalein and waited there for the men to take the next point of our destination. We departed 6/13/44, sailing at night, because there were still Japs on lots of the islands or atolls in the Marshalls. It was "very nervous" that night, Radar picked up a plane contact astern. It had no IFF (Identification, Friend or Foe) signal. A piece of equipment that was supposed to be operating aboard ALL of our ships, planes, etc., to identify it as ours. We went to battle starts with 'itchy trigger fingers', ready to open fire. Just as the Captain was in the process of doing so, the plane gave a light signal that it was ours. If it had been an enemy, he coult hav dropped a bomb down our "smokestack' when he went over. He was so low we could almost touch him. It was a night search radar plane, "Black Widow", looking for Jap maneuvers.
We arrived at Eniwetok 6/14/44. In case you don't know, that is where we tested our H-bombs after the war. It is in the westernmost Is. or I should say "atoll" in the marshalls. Here we setup a 'base of operations' for the Marianas Campaign. Sailing from here we took Saipan, Tinian, Rota and Guam. Saipan, where you will no doubt read of Japs jumping off the cliffs into the the rocks and ocean, committing suicide, because they had been told we would brutally torture them. Tinian, where the planes took off to drop the A-Bomb. Guam, where just last year they found a Jap that had hidden in the jungles all these years without knowing the war was over....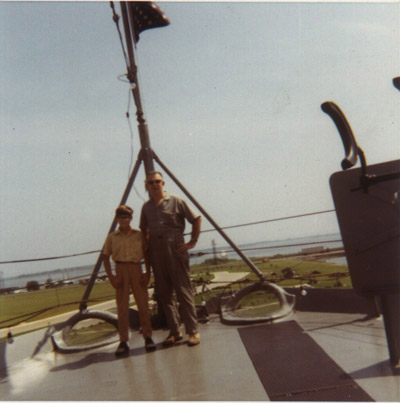 Malcolm Coalter and Nephew Bob Coalter on the bow of the USS Alabama, 1970.
An odd thing happened during this engagement. The Japs figured that after a month or so we would be out of all supplies, etc. so they sent their "carrier" fleet in from the Philippine Sea side to 'hit' the islands, land on Tinian and retake it. Their planes left the carriers several hundred miles west and were to land on Tinian after they bombed and ran out of fuel. We were waiting for them. We had a constant "supply line" running from Eniwetok all the time, even thought it was over 1200 miles away. The Hilbert made 3 trips of about a a month duration each. We escorted the tankers of gasoline and fuel oil for the fleet - sailed around waiting - refueled them and returned for more. When the Japs hit, our planes and carrier fleet took off after those trying to return to their ships. So we had to go after our ships as we had the tankers with the fuel. We "clobbered" almost everything they sent in, but some got away.
We were mainly interested in sinking their carriers and ships with them. Our planes went out an hit their fleet and sunk a large number buy had to return because of gas shortage. It was dark when they were returning. Even though we were sailing full speed toward them - a large number ran out of gas and had to "ditch". Now here comes the funny part. All the time were were in the war zone, we ran under complete "blackout". As the planes were returning after dark and so many had to "bail out" - the water was full of our pilots. We all were ordered to turn on every searchlight, etc. that we had. Boy, the whole ocean was lit up like a christmas tree, and every ship running around like a chicken with its head cut off picking up the survivors. Next morning the day brought a new sight for us. The "flight decks" of each "flat top" looked like a rainbow. As you may know, each flat-top has a different color insignia printed on their planes. That night, they had to land anywhere they could. It took all day to refuel them and get them back where they belonged before anyone could figure how many were lost.
We left Eniwetok 8/26/44, heading South. We crossed the Equator 8/30/44 and had a full day of traditional Navy initiation. To back up a little, I have my ID cards with the ship's seal on them of the date line crossing and the equator crossing. "Order of the Golden Dragon" - This certifies that Kyle M. Coalter, SoM2c, USN, having crossed the 180th Meridian on the USS Hilbert (DE742), 1 June, 1944 - Latitude (war zone) and having been initiated then and there into the "Oriental Mysteries of the Honorable Ancestors of the Golden Dragon", is and will be recognized as; "A Trusty Dragon Back". Signed Yang Yin, August Scribe. By order of Golden Dragon, ruler of the 180th Meridian.
You are, according to tradition, called a "Polywog" if you have never crossed the Equator and a "Shellback" after the crossing and initiation ceremony. You receive the following:
"Ancient order of the Deep" This is to certify that Kyle M. Coalter, SoM2c, US Navy, was duly initiated into the Solemn Mysteries of the Ancient Order of the Deep, having crossed the Equator on board the USS Hilbert, at longitude - war zone. The initiation is a story all its own. Its is supposed to be kept secret for the chagrin of the "Polywog".
During this trip from Eniwetok, we were traveling in what was at that time, "uncharted waters". We were in a "screen" for the convoy of a large number of ships and I picked up a "sonar contact". I checked my "bearing" width, "doppler" effect, etc., and reported to the O.D. (Officer of the Deck), that I had contact with a "reef". He reported to the "Flag Commander" what I said. Two other sonar operators on other ships in the screen nearest the contact reported it as a "school of fish". I stuck to my guns and told the OD to call the Flag and report it as definitely a "reef". He did so, and all "lookouts" were alerted to watch the surface, on the central bearing that I gave them. Very soon they reported a lighter coloring in the sea at that spot. It was definitely a "hidden reef" just under the surface. The order was given to change course for the entire convoy. We went very close by it as we turned. My sonar officer later commended me for a job "well done"…
We arrived at Manus Island in the Admiralty Islands just north of New Guinea 8/31/44. Here we first went into "drydock" to scrape the barnacles from the hull. It was the largest floating drydock ever built. The whole fleet used it, even the battleships. This was to give us a clean bottom - thus more speed. We made three trips out of Manus, Dep. 9/8/44 - returned 9/24/44 & Departed 9/29/44 - returned 10/7/44. I can't remember but I figure that it was from Manus that we took part in the Palau Operation…
We left Manus for good on 10/9/44 and arrived at Ulitii, in I believe the western end of the Caroline Islands on 10/29/44. This was to be a "base of operations" for the recapture of the Phillipines. It was just a large "atoll". Small sandbars surrounding a deep lagoon., where we could anchor the whole fleet if necessary.
From Ulitihi we next hit Leyte where we received the third battle star. We were escorting about 25 tankers in the Phillipine Sea, waiting to fuel the fleet, when we received an urgent message for a tanker of high octane aviation gas to be delivered to Leyte, in or near the Mindanos Sea. Since ours was the fastest of the escort ships, we were chosen to be the escort for the tanker. We raced at flank speed to make the delivery. It almost beat us to death because we had to run "into the sea". It was so rough it would jar your teeth.
When we came into sight of our fighting fleet, under Admiral "Bull" Halsey, we were asked what we were doing there. It was all a mistake. They had not sent the message calling for the tanker. We were ordered in not so polite terms to that that tanker and get the "hell out of there. Halsey and the fleet were lying in wait for the Jap fleet. Just then the battle began. Our guys clobbered the Jap ships. We had to high-tail it out of there. We were lucky.
Next we worked Luzon and got another bronze star. We sailed around Luzon, between it and Taiwan(Formosa) and in the South China Sea blocking lines from Japan and China. We played havoch with Jap shipping.
During this Luzon Operation, we had what was probably the worst experience of our lives. We met the fleet with a group of tankers to refuel them. Our ship had all the "mail" for the fleet. A "typhoon" formed almost on top of us. While passing mail we lost a man over-board. Never did find him. He could not swim and drowned. A tanker stripped a reduction gear and was dead in the water. We were elected to stay behind to circler her for the protection from possible submarines. The fleet took off away from the storm. By the time the tanker was repaired and got underway we could not turn for fear of capsizing. Were were headed into the storm. We went 50 miles from the eye or center of the storm, which is the worst part. Our mast was 83 ft from the waterline and the top and we judged the waves to be about 130 feet high. We stayed underwater most of the time. We took 72 & 73 degree rolls many times. We did not know if she would come upright again or not. The waves stripped everything we had from topside. We did not even have a liferaft left.
After the storm subsided we were lost for three days because it had put out of commission all of our navigational equipment. Finally we cam across another of our ships, separated from the others, that could navigate and we staggered back to Ulithi.
Three ships capsized (destroyers), the Spence, Monahan and the Hull. We lost almost all the men from the three. They each carried somewhere between 200 and 400 men. How those men stayed alive in that raging sea with only a life jacket or belt on, I'll never understand. I can't remember the date it happened, but I think it was just before Xmas 1944. The papers here at home carried the story.
After repairs we continued to operate out of Ulitihi. From there, we hit Iwo Jima and our next bronze star. We were escorting and screening the cruiser Canberra and a destroyer, both of which had been hit at Iwo, back to Guam whe we had our first look at three of our B-29's returning from Japan to Tinian. Scared us to death. We were ready to shoot them down. None of us knew that that we had planes that big. We thought they were Japs. We stopped at Guam a couple days and returned to Ulitihi 3/5/45.
My orders for transfer were awaiting me there. I was chosen as one of about 500 sonarmen to return to the US for "refresher training", then to be assigned to the ships to be used for the planned upcoming invasion of Japan itself. We would be on the first ships going in to clean out submarines and mines. This never came about. They dropped the A-bomb while I was still at San Diego.
I was supposed to catch the USS Enterprise CV6, aircraft carrier back to the states but missed her departure by two hours. She made the trip in 17 days and my trip took 41 days. As I left my ship (Hilbert), I looked at the speedometer and found I had traveled 150,000 nautical miles on her.
I stayed on the Admiral Coontz, in the harbor, for a day and then went aboard a merchant marine ship, President Johnson, for the trip home. On the trip back we stopped at Guam, Eniwetok, Kwajalein, Majuro, Pearl Harbor and arrived in San Francisco 4/15/45. I had 39 days leave, then returned to San Diego for refresher school and radio school. While there the Bomb was dropped and it was over. The USS Hilbert went on the Okinawa Operation and was in Tokyo harbor when the peace treaty was signed aboard the USS Missouri.
Now may next ship, the USS Mullany, DD528 was hit at Okinawa by a suicide, kamikaze, plane killing 17 men. She was towed back to San Francisco and repaired. I was assigned to her while she was in Sand Diego on a re-shakedown cruise. She was one of the ones picked for the invasion operation.
We left San Diego and arrived at Pearl Harbor 8/27/45. We had gunnery practice etc. for about a month. The ship was slated to join her sister ships in the South Pacific and sail through the Suez canal to the east coast. If that had happened I could have said I sailed around the world. Our orders ere changed though and we left Pearl 9/25/45, sailed through the Panama Canal and up to Charleston, SC. I was transferred to Washington, DC. From there, I think this ship was also put into the mothball fleet either there or somewhere else. We sailed from Pearl in a convoy of 25 ships to the east coast for Navy Day celebrations in different ports. Most of these ships were probably slated for the invasion of Japan." -Kyle Malcolm Coalter
Mac was a letter writer and did some family genealogy research, he would have loved email and the internet!
Attention: Crew and Family Members, if you have updated information on Kyle Malcolm Coalter for us, please let us know. We would also like crew pictures, personal anecdotes, etc.
---